Local celebrities including Dusty Springfield and Peter Crouch in exhibition
Portraits of celebrities and inspirational figures who have lived, worked or studied in Ealing will be brought together in a new display, alongside a film installation created by artist Eelyn Lee and students from Brentside High School.
Freddie Mercury, who studied at Ealing Art School from 1966 – 1969 before forming Queen in 1970; filmmaker Steve McQueen, who attended Drayton Manor High School; actor Sid James, who lived in the borough and appeared in films produced at Ealing Studio; and Dusty Springfield, who developed her passion for singing at St Anne's Convent School, are just some of the famous figures who have inspired the film installation being displayed alongside their portraits in Creative Connections.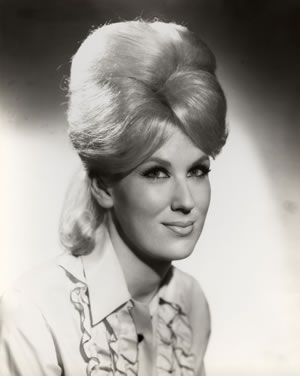 Dusty Springfield by Vivienne, 1962-1963 - (picture: National Portrait Gallery)
Through a series of workshops led by Eelyn Lee and the Gallery, the Year 10 GCSE Art students researched their local area, learnt about the Collection through the biographies and achievements of sitters who have connections with Ealing, and developed creative and technical skills in photography and film.
The immersive film installation An Ealing Trilogy is the culmination of the partnership between the young people and Eelyn. The film was recorded at borough locations including Pitzhanger Manor and features the young people, their artwork and a guest appearance from Trevor Baylis, who invented the wind-up radio and studied mechanical and structural engineering at Soil Mechanics Lab in Southall.
Other portraits that will go on display alongside the film include Peter Crouch, who attended North Ealing Primary School and Drayton Manor High School; film director Gurinder Chadha, who grew up in Southall; Pete Townshend, who regularly played at The Ealing Club; and former Prime Minister, Spencer Perceval, who lived in Ealing Common.
The initiative has formed the second part of a four-year participatory arts project, Creative Connections, which is led by the National Portrait Gallery's Learning department and is designed to extend the Gallery's work engaging young people with portraiture.
Imogen, a student at Brentside High School and a participant in the Creative Connections project, said,: 'It was an extremely exciting opportunity to be involved in a professional project such as this and, through it, I have learnt so much about the film-making industry and about portraiture.'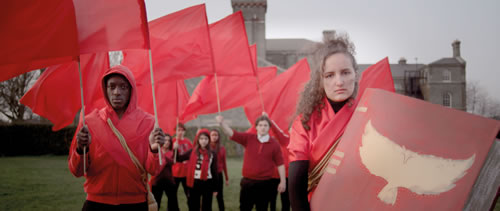 Students from Brentside High School in their film An Ealing Trilogy - (picture: National Portrait Gallery)
Liz Smith, Director of Participation and Learning, National Portrait Gallery, commented,'We are delighted to have collaborated with students from Brentside High School and Eelyn Lee to create a really engaging and memorable film and display inspired by the spirit of creativity that continues in Ealing today.'
Eelyn Lee's films are often devised through collaboration, using rich imagery and soundscapes to tell multi-layered stories about people and place. She is interested in groups of people, both in the making of the work and the subject of the work itself.

She said, 'After spending the past nine months working with the portraits of these inspiring people, it is powerful to see the Collection displayed alongside our film projection. The National Portrait Gallery is leading the way in raising the status of this kind of collaborative work, giving it a platform of the highest level. The display is a true reflection of the creative journey we have taken together. Along the way it has been gratifying to see different young people flourishing at different times and everything coming together in the production of the film.'
The exhibition takes place in Rooms 37 and 37a of the National Portrait Gallery from 19 June. Admission is free.

June 25, 2014