Over 27,000 individual runs completed since 2014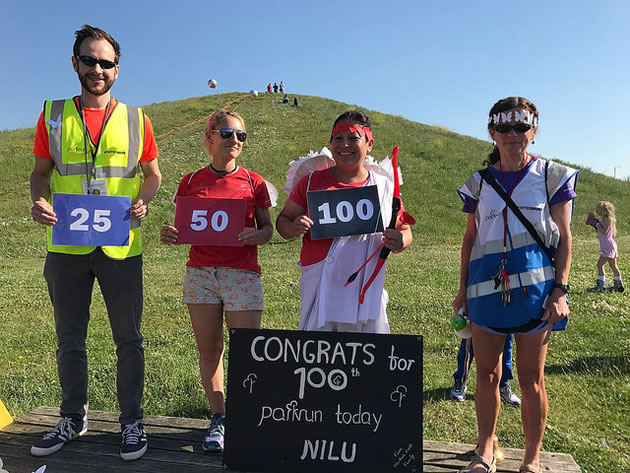 Daniel, Cath and Nilu (photo by Julian)
Northala Fields parkrun celebrated its third anniversary this month. Many of the runners were there for the very first Northala Fields parkrun in 2014 but there are lots of new faces since them.
Northala Fields parkrun started on 21st June 2014. Since then 3,818 participants have completed 27,159 parkruns covering a total distance of 135,795 km, including 5,243 new Personal Bests.
On Saturday nearly 80% were non club runners and they say they have become very much a "people's" event.
The theme of "White Butterflies" representing peace and love across the world was really well received and they welcomed the Nepalese artist Milan Rai who is the inspiration behind the theme.
There were lots of new milestones to celebrate including one woman who was notching up her 100th parkrun.
There had previously been the mention of cake to celebrate. Well the anniversary cake looked absolutely stunning by all accounts and the wonderful Nepalese sisters really went to town at the Refreshments Marquee with an array of cake, nibbles and the sensational Nepalese dumplings proving as popular as ever.
It was by far the hottest day of the year and wonderful weather...for spectating! Despite the heat though there were 270 finishers a record for a birthday run. Incredibly enough despite the tough running conditions there were 16 personal bests recorded.
parkrun caters for all abilities ranging from super speedy to recreational joggers and walkers and it was so great to see Cath Gunnewicht and John Blakeley walking round as both have very recently undergone surgery for life threatening conditions.
A butterfly-festooned Steve Plummer was the latest to do the Northala "double" of Lead Bike followed by parkrun itself and is now the proud holder of the new, albeit unofficial record of 36:55.
Another member of the double club is Byron Brown who marshalled today as he was resting for the Windsor Triathlon the following day. Byron has lived with type 1 diabetes for many years and has just discovered that his one year old son also suffers from the condition. It's Diabetes Week and Byron is hoping to raise money for this very worthy cause, so if you would like to sponsor him just click on this link.
As ever there were an interesting array of tourists. Mally & Linda Barber from Hull in East Yorkshire were down to visit their son in Ickenham and decided on getting in a parkrun before chilling out and getting ready for the Guns & Roses concert that evening. Mally describes himself as "an ageing Rocker". He still managed to come home in a spritely 24:12 though, not too shabby at all for a VM60-64.
They are always looking for volunteers so if you fancy lending a hand contact northalafieldshelpers@parkrun.com.

June 21, 2017