Labour win back control of Ealing Council
Labour have forced the Conservatives out of power in Ealing after taking the majority of seats in the 2010 local election.They will control the council for the next four years.
69 candidates were elected to the council with three councillors representing each of the borough's 23 wards.
The political make up of the council is 40 (Labour party), 24 (Conservative party) and 5 (Liberal Democrats).
The overall voter turnout was 62.24% of the local electorate of 232,767 people.
New Composition of Ealing Borough Council
| | | | | |
| --- | --- | --- | --- | --- |
| Party | Wards - May 2010 | Wards - May 2006 | Wards - May 2002 | Wards - May 1998 |
| Conservative | 24 | 37 | 17 | 15 |
| Labour | 40 | 29 | 48 | 53 |
| Liberal Democrat | 5 | 3 | 4 | 3 |
Ward by Ward Results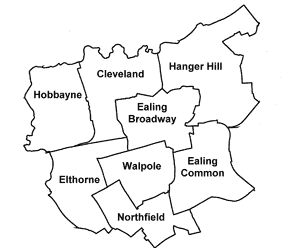 Click on map to get details of the voting in your ward
| | | |
| --- | --- | --- |
| Name | Party | Votes |
| Isobel Grant | Conservative | 2783 Elected |
| John Popham | Conservative | 2778 Elected |
| Gregory Stafford | Conservative | 2629 Elected |
| Francesco Fruzza | Liberal Democrat | 2181 |
| John Maycock | Liberal Democrat | 1669 |
| Gary Purkiss | Liberal Democrat | 1637 |
| Munir Armed | Labour | 1648 |
| Astra Siebe | Green | 602 |
| Hermia Bell | Labour | 1862 |
| Anthony Kelly | Labour | 1783 |
| | | |
| --- | --- | --- |
| Name | Party | Votes |
| Ian Potts | Conservative | 3054 Elected |
| David Scott | Conservative | 2876 Elected |
| Anthony Young | Conservative | 2802 Elected |
| Dorothy Brooks | Liberal Democrat | 1841 |
| Patrick Salaun | Liberal Democrat | 1272 |
| Mark Sanders | Liberal Democrat | 1277 |
| John Culhane | Labour | 1456 |
| Sam Diamond | Green | 779 |
| Miriam Rice | Labour | 1391 |
| Gareth Shaw | Labour | 1364 |
| | | |
| --- | --- | --- |
| Name | Party | Votes |
| Joanna Dabrowska | Conservative | |
| Roz Reece | Conservative | |
| Karim Sacoor | Conservative | |
| Jon Ball | Liberal Democrat | 2637 Elected |
| Doreen James | Liberal Democrat | 1845 |
| Simon Rowley | Liberal Democrat | 1773 |
| Harbans Lal | Labour | |
| John Green | Green | 787 |
| Peter Mason | Labour | 1173 |
| Liam Ward-Proud | Labour | 1058 |
| Julie Carter | UK Independence | 266 |
Name
Party
Votes

Anita Kapoor

Conservative

1654

1868 Elected

Robert Kirkwood

Conservative

1608

1782

Theresa Mullins


Conservative

1540

1767

Nigel Bakhai

Liberal Democrat

698

1974 Elected

Peter Hutchison

Liberal Democrat

698

1728

David Randles

Liberal Democrat

698

Omer Ahmed

Labour

657

1854

Christopher Warleigh –Lack
Green

628

768

Tanjit Chana

Labour

591

1793

Yoel Gordon

Labour

565

2236 Elected
| | | |
| --- | --- | --- |
| Name | Party | Votes |
| Benjamin Dennehy | Conservative | 3130 Elected |
| Diana Pagan | Conservative | 3136 Elected |
| Nigel Sumner | Conservative | 2976 Elected |
| David Blake | Liberal Democrat | 1623 |
| Tony Miller | Liberal Democrat | 1452 |
| Sarah Mitchell | Liberal Democrat | 1464 |
| Raj Gill | Labour | 1402 |
| Prayer Nekati | Labour | 1216 |
| Paul Woodgate | Labour | 1258 |
| | | |
| --- | --- | --- |
| Name | Party | Votes |
| Colm Costello | Conservative | 2447 Elected |
| Rosa Popham | Conservative | 2007 |
| Gerry Saravana-Wall | Conservative | 1855 |
| James Armstrong | Liberal Democrat | 1187 |
| Mohamed Muman | Liberal Democrat | 838 |
| Michael Pidoux | Liberal Democrat | 861 |
| Alex Warleigh-Lack | Green | 598 |
| Wendy Langan | Labour | 2580 Elected |
| Neil Reynolds | Labour | 2425 |
| Ray Wall | Labour | 2673 Elected |
| Darshan Bhinder | Independent | 245 |
| | | |
| --- | --- | --- |
| Name | Party | Votes |
| David Millican | Conservative | 3114 Elected |
| Philip Taylor | Conservative | 2732 Elected |
| Mark Reen | Conservative | 2812 Elected |
| Susan Kendrick | Liberal Democrat | 1807 |
| Toran Shaw | Liberal Democrat | 1396 |
| Peter Thornhill | Liberal Democrat | 1296 |
| Ryan Allain | Green | 981 |
| Navnit Dhesi | Labour | 1586 |
| Mez Roth | Labour | 1605 |
| Anthony Woods | Labour | 1808 |
| | | |
| --- | --- | --- |
| Name | Party | Votes |
| Ann Chapman | Conservative | 2704 Elected |
| John Cowing | Conservative | 2314 Elected |
| Ashok Kapoor | Conservative | 2023 Elected |
| Colin Izzard | Liberal Democrat | 1387 |
| John Mitchell | Liberal Democrat | 1430 |
| Robin Whittaker | Liberal Democrat | 1357 |
| Sarah Edwards | Green | 792 |
| Glendra Read | Green | 456 |
| Eleanor Tomlinson | Green | 580 |
| Paul Conlan | Labour | 1971 |
| Rupa Huq | Labour | 1754 |
| Wictor Moszczynski | Labour | 1628 |
| Timothy Carpenter | Libertarian | 93 |
| Eric Leach | Independent | 388 |
July 6, 2010