Nine year old Nyle comes up with winning logo
Related Links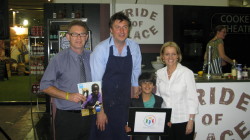 Nyle, winner of a national logo design competition, pictured from left to right with Tony Begley, Education Co-ordinator at Mary's Meals; food writer and chef Lucas Hollweg, and Lindsay Graham from the PAT 2014 project.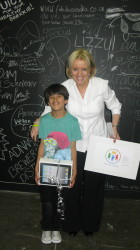 .
Nyle, winner of a national logo design competition, pictured with Lindsay Graham from the PAT 2014 project.
Participate
Sign up for our free newsletter
Comment on this story on the
A talented young pupil from Little Ealing Primary School has fought off stiff competition from across the UK by coming up with a winning logo design for a global project.
Nyle Backhouse (9), in year 4, came up with the winning logo design for the PAT (People All Together) 2014 project which together with the charity Mary's Meals, aims to raise awareness of malnutrition in third world countries.
Over 1,300 entries were submitted for the schools competition which will see the winning design used on all communication and marketing materials to promote the research project across the world until its completion in 2014.
Nyle's winning logo was chosen as its imaginative design best fitted the brief and its simple and adaptable design best represented PAT 2014.

Lindsay Graham, a leading school food and health adviser, who is heading up the PAT 2014 project, said: "The national judges and steering committee were delighted with Nyle's design.
"It complements the PAT 2014 mission statement and captures the ethos of the project. We were astounded by the number of entries and were delighted with the overall winning logo."
Mary's Meals, which provides over 526,000 children with a daily meal in their place of education, joined forces with the PAT 2014 project last year to help raise awareness of malnutrition in third world countries. For many children, a Mary's Meals is the only meal they receive that day and it costs as little as £6.15 to feed a child for a whole school year.
PAT 2014 has support from a variety of organisations across the UK including regional government departments in Scotland, England, Northern Ireland and Wales, voluntary and commercial sectors. The research will consider the provision and impact of school feeding in six commonwealth countries, including India and Malawi where Mary's Meals projects are already established.
Tony Begley, Education Co-ordinator for Mary's Meals, said: "We were overwhelmed by both the quantity and quality of the entries from the three age categories, and congratulate Nyle for coming up with the winning design.
"We are delighted to join forces with the PAT project which hopes to raise funds for Mary's Meals whilst doing valuable research."
The winning entry and three other runners-up were announced at this year's Real Food Festival in Earls Court.
Nyle received his Apple iPad from food writer and chef Lucas Hollweg and each winning school received £100 of computer vouchers, with category winners also taking home £50 in vouchers.
Nyle said of his design: "I just thought about people being together, maybe running or jumping, and that's how I got my idea."
Alison Johns, Little Ealing Primary School's art teacher said: "It was a simple and easy brief to follow and we liked the idea of helping others. We are thrilled that Nyle won and our group have had a marvellous day out at the food festival."

Competition runners-up were:
Aidan McCann (10-14yrs category) Turnbull High School, Bishopbriggs, Glasgow
Emma Browman (15-18yrs category) Braidhurst High School, Motherwell, Glasgow
Through a social media campaign, candidates will be invited to apply to be one of 20 'PAT2014 Champions' selected to conduct research in Malawi, India, Australia, South Africa, Cyprus and the UK.
Working alongside the University of Hull, they will look at the social and cultural value of food to children. They will record their findings and share the outcomes of the project prior to the Commonwealth Games in Glasgow in 2014.
The non-profit PAT project is still in its early planning stages and will shortly launch its website.
For more details and information about Mary's Meals and the PAT 2014 project contact:
Tony Begley at Tony.Begley@marysmeals.org or on 0141 336 1853. Information on Mary's Meals is also available on www.marysmeals.org
9th May 2011