Roger Partridge's thank you for four decades of care
New sculpture donated to Cancer Centre
A new sculpture inspired by the treatment of cancer has been presented to UCLH (University College London Hospital NHS Foundation Trust) by an Ealing artist who has been a cancer patient for more than four decades.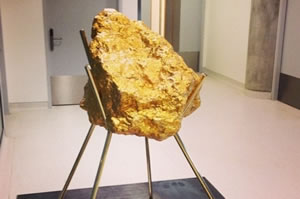 The sculpture, "To Catch a Falling Star", is on the landing of the lower ground floor of UCLH's Macmillan Cancer Centre in Huntley Street. It was presented to the centre by local artist Roger Partridge.
The title of the sculpture, while being a metaphor for the medical treatment of cancer or the doctor-patient relationship, also acknowledges what Roger describes as "the fractal link between the very large stars in the universe and the very small cells and molecular structures within our bodies".
The organically formed limestone sculpture, 'caught' in the air stands on brass legs on a steel plate. The stone, formed from deposits 170 million years ago is covered with a thin layer of metal leaf representing a sparkling yet fragile present timescale.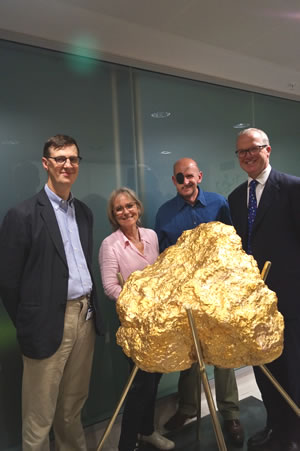 (L-R) UCLH Consultant oncologist Jeremy Whelan; Hilary Plant of Macmillan Cancer, artist Roger Partridge and UCLH Chairman Richard Murley.
The sculpture was unveiled at the centre in July by UCLH Chairman Richard Murley.
Roger Partridge said: "I have sat in many waiting rooms over the years, waiting to hear the results of a previous biopsy, benign or malignant, hoping for the former but too often expecting the latter. I have however been lucky enough to have met some extraordinary people and had some amazing and effective though not always pleasant treatment. With this sculpture I would like to thank all the dedicated, hard-working and brilliant people who have kept me alive through cancer for nearly 40 years."
Guy Noble, art curator for UCLH, said: "The ethos of the UCLH Macmillan Cancer Centre is to treat the person rather than just the illness, and this sculpture pays tribute to those broader aspects of the care that patients receive here. It is wonderful to add such a fine sculpture to the art collection within the Centre and see the contribution it makes to creating an uplifting and engaging environment for patients and their carers."
August 14, 2014