Updates from the procession today
Torch is in Brentford in the morning see here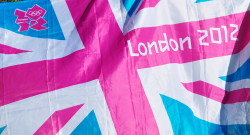 The Olympic Torch arrives visits Ealing three days before it makes its appearance at the opening of the 2012 games in the Olympic stadium.
Local residents are planning to line the route of the torch relay and support the torchbearers who include Ealing Council's nominated torchbearers, Tom Thacker and Sydney Richards.
There are bound to be large crowds coming to watch the event and residents are being advised to use public transport to get to the area.
Please e-mail your pictures of the Ealing Olympic Torch Relay to editor@ealingtoday.co.uk or let us know if you have posted any on Twitter.
See Torch Relay Live on the BBC
What is the Olympic Torch Relay route through Ealing?
The relay through Ealing starts at Northala Fields, Northolt. The torchbearers will then carry the Olympic flame towards Southall and along Uxbridge Road through Hanwell, West Ealing and on to Ealing High Street, Ealing Green, and St Mary's Road, before reaching its final destination at Walpole Park.
Approximate timings for the relay route through Ealing:
17:00: Northala Fields
17:16: Leaves Northala Fields
17:19: Kensington Road
17:25: Lady Margaret Road
17:47: Southall High Street
17:50: Uxbridge Road A4020
18:05: Hanwell
18:15: West Ealing
18:32: New Broadway A4020 (Ealing Town Hall)
18:34: High Street B455
18:37: Ealing Green
18:39: St Mary's Road
18:44: Church Lane, Ealing
18:45: Culmington Road
18:47: Lammas Park Gardens
18:48: Walpole Park*
*Entry to the evening event site in Walpole Park is for people with tickets only. If you don't have a ticket you can head to a separate area in Walpole Park to watch the action on a big screen. You won't need a ticket to get into this area but the crowd capacity is limited.
Sign up for our free newsletter
July 24, 2012