School planning major expansion at nearby site on Carlton Road

CGI of planned new school buildings
Proposals by Durston House School to relocate and expand on site near to their existing premises is meeting with rising opposition from local residents.
Durston House is an independent preparatory school located across a number of buildings primarily on Castlebar Road and Longfield Road. The existing school buildings were originally residential and converted to educational buildings but now they want to provide purpose built facilities and increase the number of pupils at the school by over 100.
The surrounding buildings are also predominately residential properties, with the exception of another independent preparatory school, Harvington School, also located on Castlebar Road. The school want to put up a new three-storey school building to accommodate 540 pupils from reception to year 8 on Castlebar Fields, a site which they own. They propose to remove the existing pavilion, storage facility and floodlit tennis courts. The current school buildings on Castlebar Road would be converted into 12 flats and three houses and their building on Longfield Road would become a 5 bedroom house.
The proposed three-storey teaching building, with a single storey teception block attached to its west end, would be parallel to Carlton Road. A new two-storey assembly building, with a single storey kitchen attached to it, would be positioned to the north-east end of the Teaching building creating a courtyard to be used twice a day for arrivals and departures of pupils and staff. The assembly building would be used by the school during school hours and by the local community out of hours by arrangement. The open plan dining and main hall spaces would provide 2 badminton courts. Other facilities such as lockers, changing rooms, showers, toilets and stores have been designed to be used by members of the local community.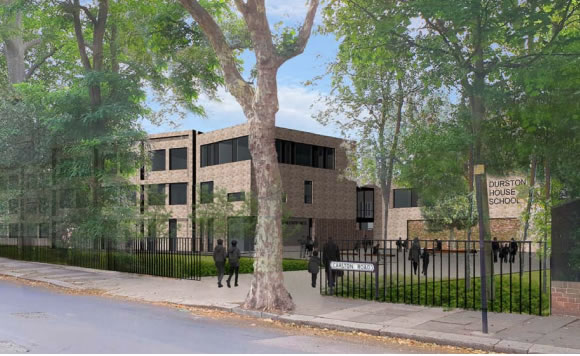 CGI of front entrance of the school on Carlton Road
Residents of the area are objecting to the plans on a number of grounds. At the time of writing there were 32 comments on the application. The most common cause for objection is the belief that the school would cause a further increase in traffic in the area. Residents complain that the number of vehicles passing through what were once very quiet residential streets has been steadily rising. Some claim rat-running through the area has increased since the implementation of a no-left rule at Longfield Avenue by the Town Hall. It has been pointed out that, with parking on both sides, Carlton Road is effectively a single track and traffic conflicts can lead to tailbacks and road rage incidents. Safety concerns have also been raised over the blind bend on Carlton Road which objectors believe make it unsuitable for a school site.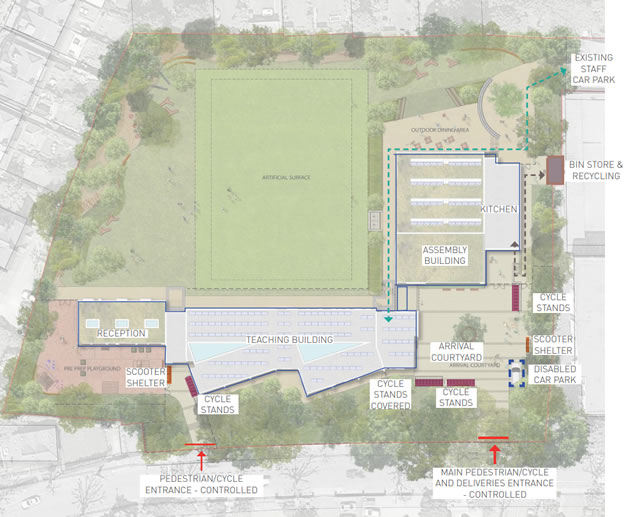 Site plan of school from documents submitted to Ealing Council
Another reason for objection is the loss of Castlebar Fields for public use. At weekends it is currently available for a number of residents and it is also used for sports days and fairs.
One objector to the scheme is former Blue Peter presenter Konnie Huq. She said in her comments on the proposals, "Ealing is a leafy suburb with quick connections to the country and city via the A40 and A4. Residents pride it on being a wonderful medium ground between living in either of the above options due to the amount of green spaces it currently has. It will be a shame to help the decline of Ealing's proud record of green spaces. Slowly development projects are eating into these spaces in an irreversible trend that is changing the nature of Ealing. Change is inevitable and welcomed if for the better. However the location of this busy cut through yet narrow road in central Ealing will fundamentally change the character of the area if housing a modern building near the roadside in an area too small to cope with what the project is intending."
Details of the application and how to make comments are on the Ealing Council web site.
April 18, 2019