Rupa Huq tackles Prime Minister in the Commons over falling police numbers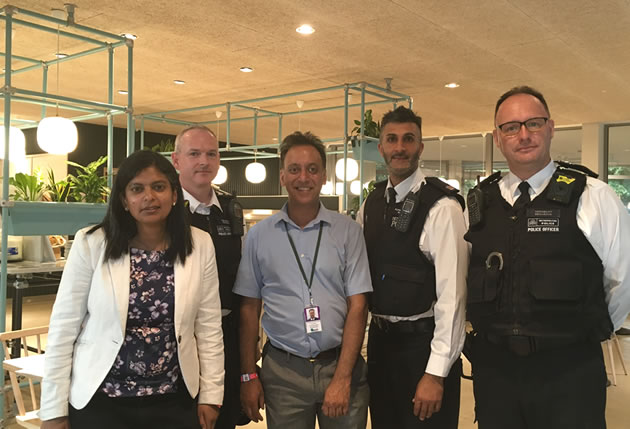 Rupa Huq MP with Cllr Praveen Anand and local Police at Gunnersbury Park recently
Ealing Central and Acton MP Rupa Huq has launched an angry attack on Theresa May over her record on crime during Prime Minister's Questions in the Commons this Wednesday (8 May). Afterwards she received support from local celebrity Shappi Khorsandi who backed a call for more police officers.
Dr Huq told the House that, "leafy Ealing and Chiswick feel like they are becoming the wild west" citing the prevalence of after-school muggings and families left terrified by masked robbers breaking in and holding them hostage while they clear out their possessions such as recent cases reported on Popes Lane and Hanger Hill.
Dr Huq told EalingToday.co.uk, "The thing about representing your lifelong local community is that it feels almost personal when things happens to people or in places you know well. My school friend of over 30 years got in touch with me the other day but my heart sank when I realised it was about her 12-year-old Zac becoming the latest victim of the muggings we've all heard about at the bus-stop on his way home from school. I was also stunned to hear that desirable streets just opposite the other side of Hanger Lane from where I grew up has suffered a spate of aggravated burglaries with people held at gun-point, knife point and in one case by a gang brandishing a screwdriver in what is normally the sanctity of their own homes."
In the Commons she said, "The Prime Minister said that austerity is over, so when will we get back the 21,000 police officers—300 locally—cut on her watch?"
Recently it has been revealed that the West Area Basic Command which covers policing in Ealing has 140 unfilled vacancies for officers leaving it 10% understrength.
The MP reports that cases of constituents coming to her for help have become more frequent of late with 30 police enquiries in the past 6 months from a standing start, with a concentration from the W4 postcodes and W5 and W13 residents around Walpole and Lammas Parks.
She added, "Let's face it not all people contact their MP for police matters but the anger I've seen at public meetings across the constituency shows how anger is rising and policing cannot be done on the cheap by taking the axe to our brave forces".
The Prime Minister replied that a billion pounds had been put into policing recently but Dr Huq poured scorn on this commenting, "It's no good chucking a few crumbs after slashing and burning. Over how long? I asked when she will reinstate lost police. No reply came back".
The Centre for Labour and Social Studies think tank commented on the Prime Minister's response by saying, "May claims £1bn invested in police however National Audit Office estimates police funding fell by 19% between 2010- 2019 taking inflation into account as opposed to a 31% increase between 2000 – 2011."
Ealing resident and local celebrity Shappi Khorsandi tweeted, "Rupa is talking about my locale. We are so close knit and it's all we are talking about at the moment. Armed gangs. Kids are mugged in broad daylight. We're discussing parents in hi-viz patrolling parks… WE NEED POLICE!"
She alluded to the well-attended recent police panel held in Northfields calling it "a town meeting… like in the Simpsons."
Dr Huq concluded, "I convened a recent meeting for local representatives at Perceval House to thrash out these issues with council officers and police inspectors. I was assured that the net was closing in on the gang responsible for the park muggings but it feels like whack a mole here as the problem goes much wider with residents in Hanger Hill even entertaining the idea of paying for their own private police patrols."
The MP told EalingToday.co.uk she will be writing to the Policing Minister to follow up the detail of the funding and how to get funds and officers deployed to Ealing. Acton and Chiswick.


May 10, 2019