Fined and made to sign nine month 'offending contract'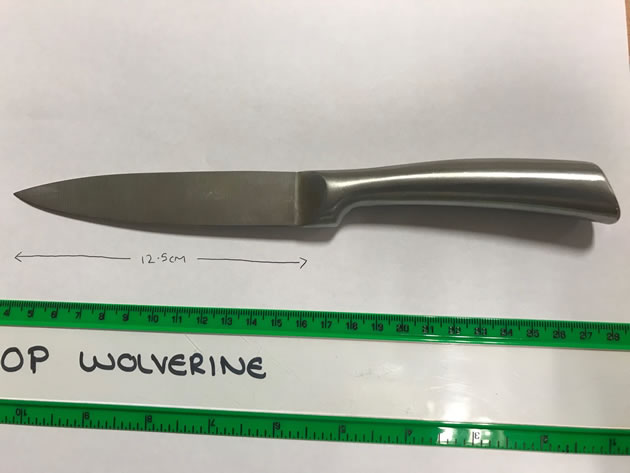 Picture: Metropolitan Police
A youth arrested by police officers from Operation Wolverine earlier this year has pleaded guilty to possession of knife.
On Tuesday, 9 April, he was sentenced to a 9 month youth offending contract and ordered to pay £105 in fines and costs.
On Monday, 25 February 2019, at around 5.35pm the officers spotted a group of males in Bordars Walk, Hanwell. One of the group fled when he saw the police approaching and was pursued on foot. As he was detained, he threw a sock containing a knife into the road. The knife is pictured above.
The youth who cannot be named due to his age, was charged and released on bail to appear at West London Youth Court on Tuesday, 12 March, where entered his guilty plea.
Inspector Dan Thompson of Operation Wolverine said, "This is another great result for the Wolverines, we are constantly looking for those who carry knives, this is a particularly nasty blade which if used would undoubtedly have caused serious, if not fatal injuries."
Operation Wolverine is an initiative of the Metropolitan Police which focuses on tackling knife crime.
Any young people who have information about violence or knife crime, can visit www.fearless.org, where they can pass on information anonymously - the I.P address will not be traced. Fearless is part of the Crimestoppers charity, and is also independent of the police.
April 17, 2019