Auj-e Taqaddas struck Indonesian immigration official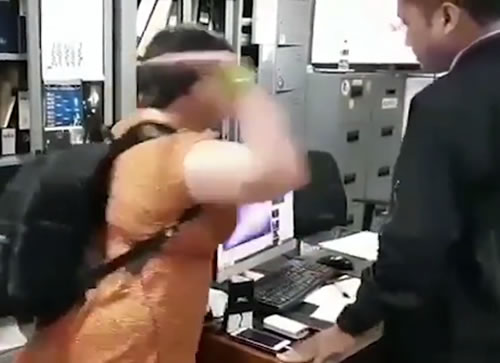 A 43-year-old medical researcher from Southall has been jailed for six months in Bali after being found guilty of striking an Indonesian immigration official.
The incident was videoed and Auj-e Taqaddas was also caught on film striking more government officials while being arrested in a shopping mall.
She had originally been stopped from boarding a flight out of Bali's Ngurah Rai International Airport last year after border checks revealed that she had overstayed her visa and was subject to a fine. She had been asked to pay £3,100 for overstaying for 160 days but berated and then struck the immigration official who had informed her.
She failed to appear in court several times for her sentencing and then resisted arrest and was filmed kicking a man trying to detain her and another official as she was being brought to a waiting vehicle. During the later hearing she was filmed shouting at the presiding officers in the courtroom accusing them of holding a 'sham court'.
As she was led away she was heard saying, 'Indonesia is a criminal country. Indonesian law is corrupt. Indonesian judges are corrupt. No lawyer was provided. Indonesian immigration is corrupt.'
The specialist in radiography who used to work at the Royal Marsden hospital reportedly left their employment after a disagreement over a book that she published.
Warning: The language used in this video may offend some
According to a report in the Daily Mail her family are 'deeply ashamed' by her behaviour. Her father used to work as a doctor and her brother is an IT consultant although the paper quotes sources as saying they have had little contact with her in recent years.
According to media in Indonesia she has been taken to an immigration centre in Denpasar, Bali and is being detained there to be deported following the completion of her sentence.

February 7, 2019