Pair operated notorious 'ten floors of whores' brothel in Chelsea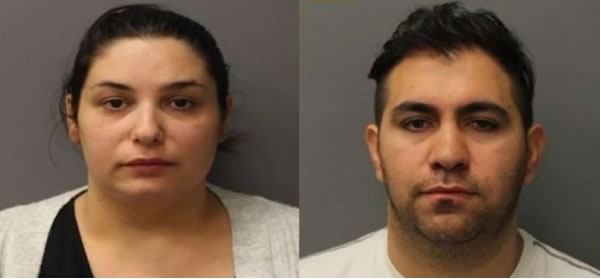 Ivett Szuda and Karl Ring
A man and a woman from Hanwell have both been jailed after being found guilty of human trafficking, controlling prostitution for gain, and money laundering.
34-year-old Karl Ring and 32-year-old Ivett Szuda, both of Elthorne Avenue were found to have exploited a large number of vulnerable women who had come to this country from Hungary, forcing them to become prostitutes and making over half a million pounds from their operation. They operated from a residential block in flats in Chelsea which was dubbed the 'ten floors of whores' because of the scale of the enterprise.
Ring was sentenced to four years imprisonment with Szuda sent down for six and a half years on Wednesday, 6 February, at Isleworth Crown Court.
Detectives from the Met's Modern Slavery and Kidnap Unit starting investigating the pair in early 2017, having received an allegation from a woman who initially said she was tricked by Szuda into travelling to the UK from Hungary.
They then discovered other victims who described how they were controlled and subjected to sexual exploitation at the flats in Chelsea Cloisters, Sloane Avenue, SW3. They were made to work as prostitutes throughout the day and night and had to hand half of what they earned over to Ring and Szuda. The victims told the court how Szuda would provide them with cocaine.
It was established that Ring and Szuda had been renting theproperty since April 2014 and ran two agencies offering escorts, webcam chat and sex. Officers carried out several welfare checks with the women working at the brothel in 2016 and 2017 and established that the women were Hungarian. Some of the women had their flights in and out of the UK paid for by Szuda, and were required to pay Szuda either half of their earnings or a daily 'rental' rate to her. Police discovered the vehicle owned by Szuda and Ring had travelled to Luton Airport on several occasions and was then driven directly back to Chelsea Cloisters.
A dedicated financial investigator was assigned to this case and completed a statement detailing the financial situation of Szuda and Ring which revealed that one account belonging to the couple was credited with nearly £500,000 between September 2010 and February 2017, despite neither individual having a legitimate income or form of work. A further £112,000 was identified as having been moved through another account attributed to the defendants.
On 27 June 2018 officers executed a search warrant at Ring and Szuda's home in Hanwell and seized in excess of £22,000 in cash and numerous mobile phones. Szuda and Ring were both arrested.
Officer in the case, Detective Constable Dan Arundell from the Met's Modern Slavery and Kidnap Unit said, "Ring and Szuda are calculating and controlling individuals, who sexually exploited a large number of vulnerable women. Their convictions should serve as a warning to others who seek to exploit vulnerable people."
Detective Inspector Rick Sewart said, "The Met's Modern Slavery and Kidnap Unit takes all reports of modern slavery and sexual offences extremely seriously and is committed to prosecuting those who engage in this pernicious crime. I would encourage anyone who has suffered from these kind of offences to report them to police. We will treat you with sensitivity and any allegations will be thoroughly investigated."

February 7, 2019