Man from West Ealing had £45,000 taken from his account
A man had been jailed for three and a half year after being convicted of two counts of fraud after taking £45,000 from an elderly man from West Ealing.
49-year-old Ablie Mohammed Bah of Knights Hill, West Norwood pleaded guilty at Kingston Crown Court earlier this month and was imprisoned at the same court this Wednesday (31 May).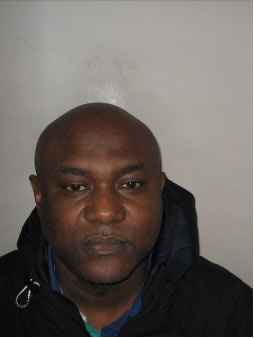 Ablie Mohammed Bah
Bah was employed by an independent care provider and was a home carer for the victim, now 88, who lived in West Ealing and needed assistance with tasks such as washing, cooking meals, laundry, shopping and getting around.
The fraud first came to police attention in November 2015 when staff at a bank branch in West Ealing reported suspicious transactions made from the victim's account. The victim had attempted to withdraw cash but was unable to, and bank staff informed him that a large amount of money had been withdrawn from his account.
Bah was present during this visit but left just before officers arrived, and he was originally treated as a witness. He initially told detectives that the victim suffered from dementia and was just confused.
The victim's bank statements were obtained by detectives, and they showed a large number of cash withdrawals made between 19 June and 19 November 2015.
In total, £34,330 had been taken out via cash points, £5,944.94 had been spent in card purchases at clothes and food shops, and £5,000 in cheques were paid out to Bah. The total value of the fraud amounted to £45,457.88.
The victim told officers that he had not purchased clothing from any of the stores that were shown on his bank statement. He also said that there were times that he was unable to find his bank card, and that he would sometimes find it in places that he didn't leave it.
Bah was subsequently arrested on 15 December 2015. His flat was searched and officers seized items purchased using the victim's card, and receipts.
Analysis of Bah's finances also showed a significant increase in cash deposits to his bank account in the months where the offending was taking place. It was also found that Bah transferred large amounts of money out of the UK which has never been recovered.
Detective Constable Ben Robinson, of Ealing Borough, said: "Bah took advantage of his victim's frailty and dependency and exploited the trust placed in him by deviously obtaining his bank card and plundering his bank account. He used the card whenever he pleased, buying clothes and expensive watches, and withdrawing large sums of cash to top up his own bank balance over five months of free spending.
"I am pleased that Bah will now spend time behind bars to reflect on his actions.
"The victim is still distraught about the fraud and this abuse of trust, and I hope he can now start to put this behind him."

May 31, 2017