Handbag stolen as she cleaned her husband's grave on Christmas Eve
The community has rallied round to help a woman who was robbed whilst tending her husband's grave in Hanwell on Christmas Eve.
Nearly £1500 has been raised and many locals have offered their support to the widow, distraught after the experience.
The 73-year-old was in Hanwell Cemetery, W7 at 1.30pm on Thursday, 24 December when she was approached from behind and robbed of her handbag. As the bag was taken she fell to the ground and suffered minor injuries.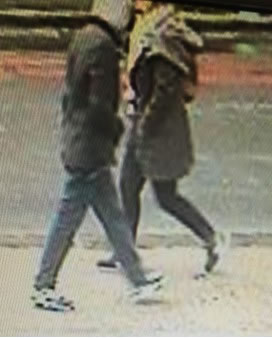 CCTV still of man police wish to speak with
After stealing the handbag, the suspect left the cemetery at 1.32pm walking off briskly towards Church Road whilst covering his face.
He is described as a skinny man, about 5ft 9ins tall. He was wearing a black scarf covering his face, a grey hooded top, a black coat and jeans.
The handbag was recovered by a member of the public nearby but the woman's purse was missing.
The robbery took place in broad daylight and police are keen to speak to members of the public who saw a man matching this description walking briskly away from the scene, with his face covered and hood up.
Local residents appalled by the news have now contributed nearly £1500 to a fundraising site set up by the licensee of nearby Lavins Bar, Joanna Barrett.
Miss Barrett said she had been in touch with the victim who was overwhelmed by the generosity but had expressed fears about returning to the cemetary on her own.
There have also been offers from residents including a Metropolitan Police officer to accompany her on her future visits to the cemetrary.
Anyone who has information about the incident or who recognises the man should call Ealing CID via 101 or email Tom.Henley@met.police.uk or Crimestoppers anonymously on 0800 555 111.
5th January 2015