Video clip shows man and woman in brawl with another passenger
A video of a fight involving two men and a woman in Northolt tube station on Saturday night (15 August) has been posted on the LiveLeak.com web site.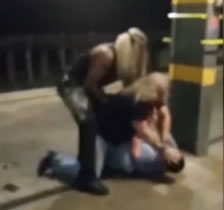 An onlooker filmed the incident which occurred on the station platform on a mobile phone. Initially it shows two men struggling on the floor with a woman with long fair hair shouting abuse.
A younger dark haired man is grappling on the floor with an older man who bears a resemblance to Bill Bailey the comedian. The younger man appears to want to disengage but then is kicked on the ground by the woman and then the older man gets to his feet and punches him in the face whilst the woman shouts abuse at him. He then gets up and walks away from the couple towards the exit staircase as the woman continues to hurl expletives in his direction. At this point the clip ends.
A British Transport Police (BTP) spokesman said, "We were called to Northolt Underground station at 10.40pm on Saturday, following a report of three people fighting. BTP officers attended the scene but all parties had left prior to their arrival. Enquiries are ongoing. Anyone with information is asked to contact BT on 0800 40 50 40."
Warning: Some readers may find the footage below upsetting
There is no suggestion that the person in the clip actually is Bill Bailey.

August 19, 2015