Amir Aden preyed on lone women in the area
Amir Aden, a 29 year-old male of no fixed abode, was sentenced to 15 years and 6 months imprisonment by Harrow Crown Court last Thursday (26 March). Aden, also known as Amir Amir, pleaded guilty to one charge of grievous bodily harm and five counts of robbery.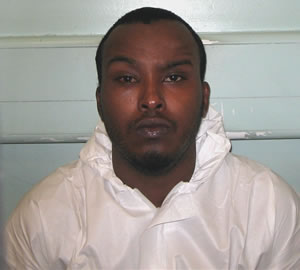 Aden will serve at least 15 years in prison
The court heard how in June last year, Aden committed a spree of five robberies in nine days, all against lone females in the West Ealing area.
Aden's spate of attacks became more and more violent, with one victim sustaining a cracked cheekbone. He was arrested by police, who had been monitoring the spike in local robberies, on the evening of June 9, having been recognised from CCTV footage and witness descriptions.
Aden was charged the following day and remanded in custody. Fortunately, police were able to recover the vast majority of the property stolen from his victims.
When brought to court in March, Aden pled guilty to all counts of robbery, but did not admit to causing the cheekbone injury until the morning of the trial. On sentencing, Aden was deemed a danger to the public and, as such, an extended term for public protection was imposed.
Aden will spend a minimum of two thirds of his sentence in custody and can only be released early on license once the parole board has deemed he is no longer dangerous. After release, police say he will spend an additional three years under close supervision.
Investigating Officer, Detective Constable Michael Currie, Ealing Robbery Unit said: "Aden is clearly a dangerous man and one that we, as a team, wanted to take off the streets as soon as the scale of his offending became clear. I am relieved we were able to do that quickly. I am in no doubt that had we not done so, many more violent attacks in the area would have occurred.
"I hope this sentence goes some way to allowing Aden's victims to move on with their lives".


2nd April 2015