Crystal meth laboratory discovered on Cawdor Crescent
Police have discovered a crystal meth lab in a local residential street.
A large blue tent has been outside the semi-detached four bedroom house in Cawdor Crescent, Hanwell since Tuesday.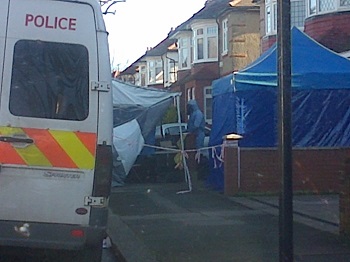 Local residents were quoted in the Evening Standard as saying that the property has been rented out to four people for the last few years and that a scuffle occurred before the police first arrived.
Crystal meth or methamphetamine is a highly addictive drug more commonly used in the United States. It featured in the hit TV series Breaking Bad with chemistry teacher Walter White becoming a supplier when he is told he only has a limited time to live.
Spokesperson for the Metropolitan Police said: "On Tuesday officers from Ealing Borough were called to an address in Cawdor Crescent, Ealing, to reports of a dispute. Officers attended and discovered equipment believed to be involved in the making of Crystal Meth. A cordon has been put around the property and made safe. Officers remain at the address whilst enquiries continue."
February 21, 2014