Two charity runners face race against time at Ealing Eagles 10k event
It will be more than just personal pride driving on two charity runners taking part in the Ealing Eagles 10k event at Gunnersbury Park on Sunday (May 19) – they'll also be trying to finish in double-quick time so that they can watch Brentford play at Wembley.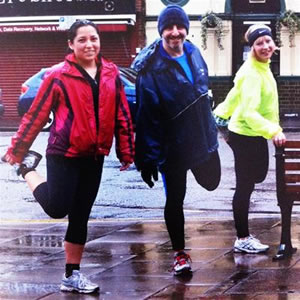 Vicky Pearson and Panayiotis Sinnos, barista at Munson's Coffee and Eats in St Mary's Road, Ealing are among members of the Munson's Coffee Running Crew which is raising money for the Tom Clabburn Memorial Fund administered by Cardiac Risk in the Young (CRY).
Both will be hoping to get round, get changed and get to the 1.30 pm kick-off as the Bees attempt to win the play-off final and promotion to the Championship
Ealing schoolboy Tom, who also enjoyed watching Brentford play, died aged 14 from an undiagnosed heart condition in 2007. CRY say 12 young people aged 14-35 die each week in the UK from such conditions.
"Tom was very close to all of us and we miss him dearly" said Ms Pearson, who explained that money raised would help fund future free heart screenings for young people in Ealing, including one planned for this autumn.
Claire Prosser, Tom's Mum, said: "Munsons have been a great support to me and to CRY, helping us raise thousands of pounds over the past few years."
Tom's Fund has sponsored screenings in London every year from 2009 onwards. A total of almost 1,000 young people have been screened.
Anyone wishing to sponsor the Munson's Coffee Crew can do so via www.justgiving.com/MunsonsRunningCrew

May 14, 2013