David Millican visited businesses in Rwanda and Burundi
Local councillor David Millican has returned from a fourth visit to Rwanda and Burundi as part of a group of Conservatives aiming to offer training and mentoring to small businesses in the two impoverished East African countries.
Millican's business team, made up of self-funded volunteers, included a group of Conservative MPs, who are members of the House of Commons International Development Select Committee.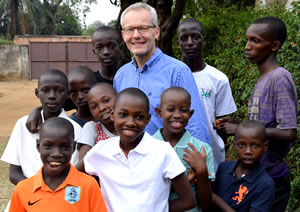 During the trip, the group worked closely with the Federal Chamber of Commerce & Industry in Burundi. They also teamed up with SURF, a British-based charity supporting survivors of the Rwanda genocide. In each country, the group held a week-long course, aimed at enhancing the entrepreneurial skills of more than 100 business people.
Burundi and Rwanda are amongst the poorest countries in the world, scarred by historical conflict and turmoil. Reporting back from his visit, David Millican in particular highlighted serious infrastructure problems within each country. Both are land-locked, yet their transport links with other countries are still poor. Neither country has a railway and roads are meagre, making their export of tea, coffee and fruits very difficult. In Burundi in particular, there is little foreign aid or investment, whilst the infrastructure needs huge outlay. Despite the deep problems, however, Millican also saw encouragement in the "enormous appetite in both countries to develop their business environment."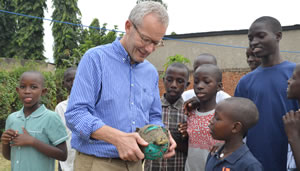 David Millican and the team have set up a charity over the past year to raise funds to help an orphanage in Bujumbura, the Burundi capital, pay its rent. The registered charity was established in Britain after a visit Millican and others made to the orphanage, which houses more than 60 street kids, in 2013. According to Millican "the kids so appreciated our time when we returned this year. At least now they have a secure home base."
Donations can be made to support the orphanage at www.orphanageofhearts.org.
August 14, 2014