Suspects caught on CCTV say local SNT
Related Links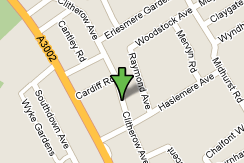 Northfield Safer Neighbourhoods Team
180 South Ealing Road
Ealing W5 4RJ

Tel: 020 8721 2950
Participate
Sign up for our free newsletter
Comment on this story on the
The Northfield Safer Neighbourhoods Team would like to bring to your attention two suspects concerned in recent residential burglaries on the ward which have been occurring since the 22nd December 2010, in the late afternoon early evening time.
The offences are occurring in the roads sandwiched between Clitherow Avenue, Elthorne Park Road, Midhurst Road and Haslemere Avenue.
The two suspects are both white males and appeared to be in their late teens. One of the males wore an all grey tracksuit with the hood up but also wore a black body warmer. He was approximately F508 in height and of a slim build.
The second male was dressed in dark clothing, sporting short cropped dark coloured hair and carried a light coloured bag slung diagonally across his back (similar to the sports bags you get at JD sports). This male was slightly taller at approximately F509 in height and again of a slim build.
In one of the residential burglary offences, these two suspects was seen walking along Walmer Gardens from the direction of Balmoral Gardens and enter the back of an address on Walmer Gardens. The two suspects were then seen to run from the address on Walmer Gardens towards Erlesmere Gardens.
The above descriptions are accurate as there is evidential cctv supporting this.
We do not believe that these two suspects live on the Northfield ward and they are not people we have had dealings with in the past.
Northfield officers have increased plain clothes and high visibility patrols in the area but we are asking for you all to be vigilant in tracking down these suspects. If you see any persons acting suspicious matching the descriptions I have given above then please, if you feel safe, observe them and if they are witnessed acting untoward then please dial 999.
8 January 2011