and dumping building waste in South Ealing
A local builder has been ordered to pay £1,651 after putting up unlicensed scaffolding and leaving rubbish and debris by the side of the road.
Michael Wells of South Ealing Road was found guilty at Ealing Magistrates Court on Thursday, 25 November. The court heard that around 14 June 2010 he erected scaffolding on the highway without a licence and deposited building materials on South Road in Ealing, which is contrary to the Highways Act 1980.
He was fined £350 for the building materials offence and £525 for the unlicensed scaffolding, together with full costs of £776, making a total of £1,651.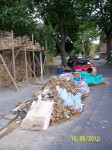 Councillor Bassam Mahfouz, cabinet member for Transport and Environment, said: "When I heard about this case, I was appalled that any builder could have such a blatant disregard for their own safety and the safety of the public. In addition, he has used the public street to store his building materials and rubbish, which shows a lack of respect to other residents. After being fined, I'm sure he will think twice before committing similar offences again."

10 December 2010