Get on your bike with the kids - free loan of equipment
Ealing Cycling Campaign (ECC) is encouraging people in Ealing and Hounslow to try cycling with their children.
They have a range of equipment to loan out including child seats and trailers, some suitable for two children and easily converted into pushchairs.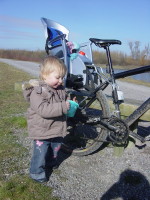 They also provide help and support such as route advice, storage and will fit the equipment for you. They will also provide free professional on-the-road training to give confidence to anyone who needs it.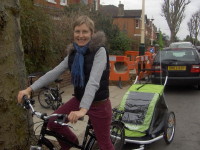 Both boroughs are ideal for cycling and with summer in full swing it's a great time to explore the green spaces with the family without the car.

Project manager David Eales says:''We've had a lot of interest since the project started. We've had some great feedback already as people discover how much freedom a bike gives them.''

Several family rides are also planned in July and August that are perfect for families and people returning to cycling after a break.

Contact David Eales at info@ealingcycling.org.uk or call him on 07880 797 437
July 13, 2009