Severe interruption of services following incident on track
Transport services in West London were thrown into chaos yesterday (30th October) after a person was hit by a train and killed near Ealing Broadway.
Ealing Mainline station was closed after the incident and there was substantial disruption to rail services out of Paddington including First Great Western Trains and Heathrow Express.
Massive overcrowding on westbound trains. Picture: @stuartdhughes
Stuart Hughes, a BBC journalist who lives in Hanwell, was one of those caught up in the chaos.
He told EalingToday.uk, "I've never seen a rush hour like it. Hundreds of people were milling around Paddington station trying to work out how to get home.
"Even those trains which were still running were being delayed because so many passengers were trying to board. The drivers simply couldn't shut the doors because so many people were trying to cram themselves into the carriages.
"Thankfully, most passengers were polite and good natured, but it was a claustrophobic and cramped journey home."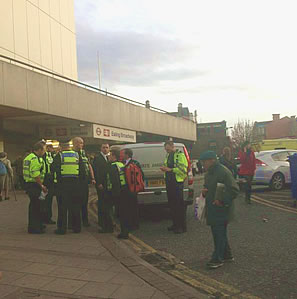 Outside Ealing Broadway after the incident. Picture: @__LadyS
Police are not treating the death at Ealing Broadway as suspicious.
October 31, 2012