Join in and enjoy the free tennis sessions
Related Links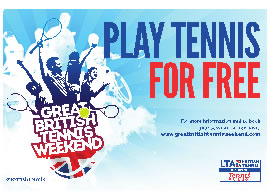 Sunday 22nd June
1:30-4pm

Please come along to our Open Day on Sunday 22nd June 1.30-4pm and join in our free tennis sessions. This event forms part of the Great British Tennis Weekend. Play on our 8 brand new courts at Pitshanger's public 'pay and play' facility.All abilities welcome (Juniors & Adults). Rackets & Balls provided.

Book your 30 minute free slot in advance on-line at OpenDays/WilltoWinPitshangerPark or sign up on the day for any of the following sessions:

For Adults
Adult beginners/improvers/intermediates / advanced
Cardio tennis for those who want more of a fitness workout
For Juniors
Mini Tennis Sessions for 3-10 yrs and 10-16 yrs
Fun games and prizes
Or just come along and join in
Fastest Serve competition
Beat the Coach
Target Practice
Free courts for social play
Plus meet our highly qualified coaches, get free tips and advice, try out our demo rackets.
Everyone welcome. Sign up now at OpenDays/WilltoWinPitshangerPark

For more information phone 020 8991 9844 or www.willtowin.co.uk

Click on this link to find out more about the Great British Tennis Weekend

In case of adverse weather please first contact the tennis centre.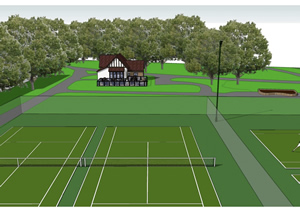 What is Will to Win?

Will to Win Tennis is a tennis company set up 20 years ago to improve the tennis and sports facilities in public parks and enable year round play for all ages and abilities. Will to Win first came to Ealing in 2000 setting up a public pay and play facility in Lammas Park on Culmington Road. We started operating the facilities in Pitshanger Park in 2013 and since then we have resurfaced all 8 courts, built a 5 a-side 3G football pitch, installed floodlights and renovated the Lodge which now houses a café, small pro shop and changing facilities.

We offer a year round programme for adults and juniors of all abilities,including our hugely popular tennis camps for kids. Our team of coaches are all professionally qualified and truly inspirational. We are a 'no frills'venue which means you don't have to wear all whites, undergo a play-in test or be a member. You can just come along and 'pay and play'. Our motto is 'Tennis for all' and we welcome people of all ages and abilities.What's more, we won 'Middlesex LTA Club of the Year' in 2011, 2012 and again in 2013!

What's happening at Will to Win in Pitshanger Park this Summer

FOR ADULTS:

Drop-in Sessions
We have lots of drop-in sessions to suit your schedule including Drills and Social tennis on Tuesday and Sunday mornings;Intermediate/Advanced Drills on Tuesday evenings and Saturday afternoons; Social Match Play on Wednesday & Friday evenings; Back to Tennis for Beginners/Improvers on Saturday mornings; as well as Brunch on Sundays for those who wish to combine tennis with some relaxation! Everyone welcome.

Cardio Tennis
For those who want to combine a physical work out as well as a game of tennis then cardio tennis is for you! Cardio is a great way to get fit; players keep moving for the whole session; it's less about tennis technique and more about drills. It's fun, dynamic and very popular. No need to book – sessions run on Saturdays 9-10am.

Adult Beginner and Intermediate courses
In addition to the above, we have Beginners and Improvers/Intermediate courses running in 6 week blocks in the evenings all Summer as well as leagues, teams, drop-in sessions and much more.

AND FOR JUNIORS:

Summer Holiday Tennis Camps
Our hugely popular kids' Summer Tennis Camps run weekly from Monday 14 July- Friday 29 August from 10am-3pm each day. Open to ages 4-15 yrs and all abilities.(Sessions for 4-7 year olds run from 12-1pm). The camps get booked up quickly so please call early to book a place.
Junior After-School Courses
Prior to the camps, our Junior After-School Courses are running until 17 July on Tuesdays, Wednesdays and Thursdays from 4-5pm, 5-6pm, 6-7pm. See our website for more details. Places are limited so sign up now.

Junior Drop-in Classes
If you can't make after school, then we also run drop-in sessions on Saturday mornings 10-11am, 11am-12 noon, 12-1pm. No need to book, just come along and join in.

Finally, we would like to invite all juniors age 16 and under to come and play on our courts for FREE from 3-6pm Mondays-Fridays!

Football

In addition to our comprehensive tennis programme, we have a floodlit 3G 5 a-side football pitch available for hire. We also plan to run multi sports camps, children's drop-in football sessions on Saturday mornings and adult football leagues as well as and children's birthday parties (tennis & football).

Whatever your need, we aim to meet it. Why not try us out? We look forward to seeing you.
For more information visit www.willtowin.co.uk or call 020 8991 9844.
Advertisement
June 17, 2014