New classes in Hanwell and Brentford
Related Links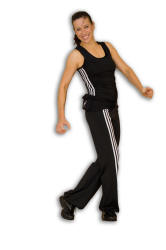 Zumba In Ealing!!!!
Contact Lucy Case
lucy@bodyfitco.com
07972149938
£5pp

Mon 8-9pm
St Thomas Church Hall
182 Boston Road
W7 2AZ

Thurs 8-9pm & Sat 10-11am
St Faiths Church Hall
122 Windmill Road
Brentford
TW8 9NE

Participate
Sign up for our free newsletter
Comment on this story on the
No more excuses - it's time to get fit the Zumba way!
If, like me you made New Year resolutions which included exercise but you still haven't got round to it then it's time to put away all your excuses away and get moving.
Over the last year or so Zumba has been the buzz word in gyms and fitness classes throughout the country.
The marketing blurb tells me that since it started in 2001, this Brazilian fitness craze has grown to become the world's largest – and most successful – dance-fitness program with more than 10 million people of all shapes, sizes and ages taking weekly Zumba classes in over 90,000 locations across more than 110 countries.
I wondered if it was all hype - so thought it was time to test it out.
Lucy Case is Director of The Body Fitness Company and an excellent advert for Zumba. Super-fit with bundles of energy, she oozes enthusiasm, and, with her big, friendly smile she puts us nervous novices at ease immediately.
There were about ten of us (all women - but men are allowed!) gathered in the church hall - a variety of shapes, sizes and levels of fitness.
Zumba works so well because of the infectious music. Lucy teaches a variety of step combinations as the fun Latin American music blasts out. You can't help but smile along with her.
It's an ideal re-introduction to exercise as you go at your own pace. Some of the tracks are a little slower than others but most are upbeat and high energy. Essentially you can burn between 250-700 calories each class.
First session ends and I'm out of breath and red in the face.
My fitness levels leave a lot to be desired but, if I am going to tackle my exercise demons I reckon there is no better way than to hit them full on with Zumba.
It's not hype. Zumba is great, and yes I'll be back for more.
Annemarie Flanagan
+ Advertorial +
14th March 2011