Convenient Affordable Vibrant Accessible
Ealing Broadway Business Improvement District (Ealing BID) run EalingShopLocal which is a campaign to highlight all the great reasons to shop in Ealing Broadway and to help support local businesses.
The website is updated daily and features special offers and promotions from local businesses as well as local job vacancies, news and events.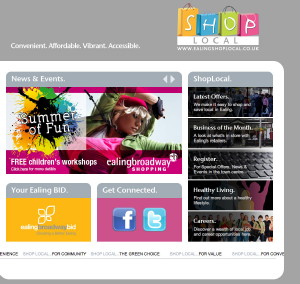 EalingShopLocal also has a Twitter @ealingshoplocal and Facebook page ( Ealing Shop Local ) .
We also hold events such as our recent Healthy Living event in the Ealing Broadway Shopping Centre, the Polish Festival at Haven Green and the annual Christmas Tree Lighting.
These events are all popular and well attended and help drive footfall into the town centre.
There are over 11,000 people registered on the website and they receive regular emails and sms.
+Advertorial+
25th July 2011