Gym Membership at Dormer Wells Leisure Centre for just £27.95
Related Links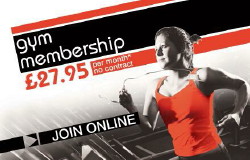 For further details contact Dormers Wells Leisure Centre on 020 8571 7207 or to join online visit www.gymlondon.org
Participate
Sign up for our free newsletter
Comment on this story on the

If it's affordable fitness you are looking for, there is no need to look further than Dormers Wells Leisure Centre in Southall.
Both a community and sports centre, it is managed by Leisure Enterprise GLL in partnership with the London Borough of Ealing. GLL is an employee-owned society that exists for the benefits of the community. Based on charitable objectives, GLL oversees the management of 100 public leisure centres across the south of England, and strongly believes in delivering affordable fitness to local communities.
The centre boasts a 70 station gym and a dedicated weights room.
Gym only membership is £27.95 per month. Gym, Classes and Swimming Membership is also available with prices starting from £29.65.
The membership is taken by direct debit on a month by month basis and there is no contract attached to it.
Dormers Wells Leisure Centre has a strong community ethic and is managed by a charitable trust, all surplus income is reinvested into the centre and its facilities, and it also goes in to the varied community programmes we offer to encourage the local community to participate in sport and physical activity and therefore to lead a healthy lifestyle. The programmes cover a wide range of age groups, from children to seniors.
Exercise classes offered at the centre, are delivered in a purpose built dance studio, and, include Pilates and Hatha Yoga, and, for the more energetic, Power Pump, Body Conditioning and many more.
Fully qualified fitness instructors are on hand to deliver advice and help in our gym and if it's a programme you need, the Free Programme and update service could be exactly what you are looking for.
Further facilities include a multi purpose sports hall which hosts, two 5 aside pitches, 6 badminton courts 2 basket ball courts, and, can also be booked for Karate.
An outdoor Multi-Use Games Area can be booked for tennis and netball.
If it all sounds too good to be true then go and see for yourself.
Free day passes are available from www.gymlondon.org (terms and conditions apply)
For further details contact Dormers Wells Leisure Centre on 020 8571 7207 or to join online visit www.gymlondon.org
+ Advertisement +
3rd February 2011