Rosanna's contemporary method re-inspires a traditional art form
Hello, my name is Rosanna Henderson and I am a Mosaic Artist who has lived in Ealing for the past 30 years.
I make mosaics because I love the creative process and take pride in the finished result. I design and create original, unique and vibrant mosaics suitable for indoors or outside. I make all the pieces myself so they are individual. I've become fascinated by the possibilities this wonderful art form offers. Now I'd like to share my passion for mosaic with you through this article.
Mirrors, pictures, wall hangings, garden pots, stepping stones, outdoor plaques and door numbers are just some of the pieces I design and create. I have a gallery of my work on my website www.conkercrafts.co.uk
COMMISSIONS
A lot of my work is on a commission basis. My mosaics offer you the opportunity to have a unique, long lasting piece of art work to suit your own style, colour scheme and purpose.
If you are thinking of revamping your home or redesigning your garden, then a specially commissioned piece could be just the thing to give it your personal stamp. It will be original, relevant and a real talking point. I can also work the pieces of a broken pot or ornament, coins and old jewellery into a new piece of art for you.
EXHIBITIONS
I have been privileged to have held an exhibition at the beautiful National Trust property, Osterley House, for the last 2 years. At each event I had over 900 visitors and it was great to meet and chat to so many of you. Several of you have remained good customers and have joined my regular mailing list. Last year I also held a month long exhibition at the Runnymede Gallery in Old Windsor, once again, this was an excellent opportunity to get my name out there for a wider audience to view my work.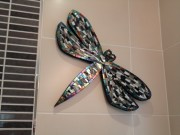 This year I will be demonstrating for the first time at the Wetlands Centre Traditional Craft Fair at Barnes in July. Give me a call for more details on 07961 134 033.
I have a permanent exhibition of my work in my studio on the Brentham Garden Suburb, viewings can be arranged.
I am keen to do more exhibitions and would also love to have some pieces in shops and galleries. If you can help me achieve this, I would love to hear from you.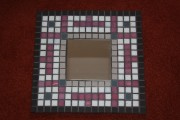 MOSAIC CLASSES
Due to several requests, I have started running mosaic classes on an ad-hoc / enquiry led basis. 'Introduction to Mosaic' classes are for those that would like a taster, try something a bit different or discover their artistic flair. Relaxed, fun and creative, this is an ideal way to have a go and make your first piece of mosaic. These can be tailored to individuals, small groups or larger parties.
GIFTS AND SPECIAL OCCASIONS
Are you stuck for ideas for a special present? I can help you with that perfect gift that can reflect the recipient's interests, in their favourite colours.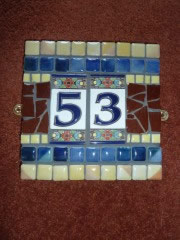 Some suggestions:
Why not have a mosaic door number plate
How about a set of pots for your garden
A mosaic animal would look great in a child's room
Let me know a bit about the person and we can come up with a great gift idea that suits the occasion and your purse.

I hope the above has given you a taste of how I have reinterpreted this ancient art for contemporary appeal. I would love to hear from you so please visit my website or give me a call.
Advertorial


March 14, 2012