Northfields win Best Independent Estate Agency Prize for second year
Participate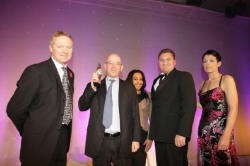 Richard Palfreeman and team receive award
Comment on this story on the
Don't expect much work to be done in the offices at Pitshanger or Northfield Avenue today - staff will still be celebrating.
Northfields Estate Agents have won a top prize in the Negotiator Awards 2009.
They have been voted 'Best Independent Estate Agency' for the second year running.
It was a double celebration for Managing Director Richard Palfreeman who collected the award on his birthday.
November 13th, 2009